Facility:  
Saddleback Medical Group, Inc.
Address:
24221 Calle de la Louisa
Third Floor, Suite 300
Laguna Hills, CA 92653
Online Forms: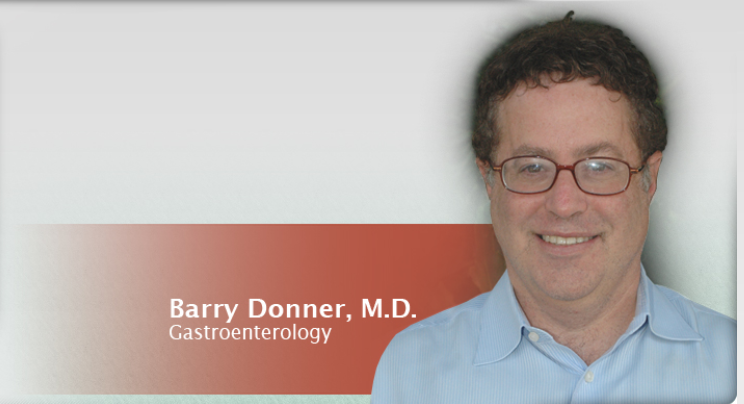 Education:
Rochester Institute of Technology, Rochester, NY, B.S. degree, Biology, 1977.
Albany Medical College, Albany, NY, M.D. degree, 1981.
Postgraduate Training:
Internship and Residency, Mercy Hospital and Medical Center, San Diego, CA 1981 - 1984.
Fellowship in Gastroenterology, University of California, Irvine, 1985 - 1987.
Fellowship in Hepatology, University of California, Irvine, 1984 - 1985.
Board Certifications:
Diplomate, American Board of Internal Medicine, 1984.
American Board of Internal Medicine, Gastroenterology Subspecialty, 1987.
"Gastroenterology is a very interesting and rewarding field, especially because with proper diagnosis and treatment, symptoms can frequently be totally eradicated. Helping restore a patient to their optimal health is the greatest reward," according to Dr. Barry Donner.
Dr. Donner completed medical school at the Albany Medical School in New York, and his Internship and Residency at Mercy Hospital in San Diego, CA. His fellowship was completed at the University of California at Irvine Medical Center. Dr. Donner is Board Certified in Internal Medicine and Gastroenterology, and he has a special interest in the treatment of liver disease.
Dr. Donner is a sports enthusiast who enjoys tennis, ice hockey, skiing, and football. He also enjoys theater and travel in his free time. He lives in South Orange County with his wife and three children.
Barry S. Donner, MD is affiliated with Saddleback Memorial Medical Center and the Digestive Care Center in Laguna Hills, California.