Facility:
Saddleback Medical Group, Inc.
Address:
24221 Calle de la Louisa
Second Floor, Suite 200
Laguna Hills, CA 92653
Phone:  (949) 420-5988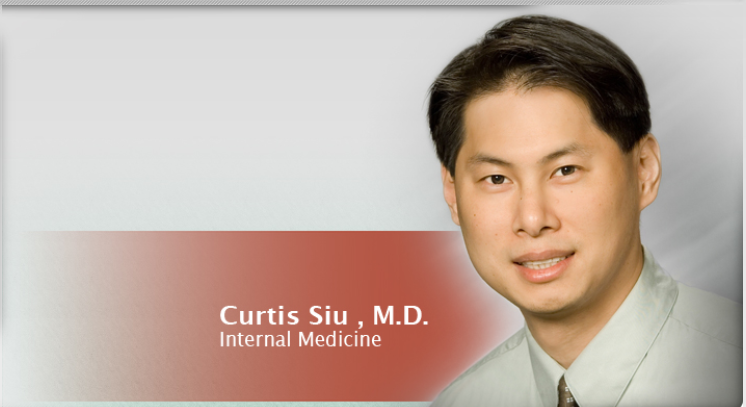 Education:

University of California, Irvine, B.S. degree, Biology, Psychology Minor, magna cum laude, 1995.
University of California, San Diego, School of Medicine, M.D. degree, 1999.
Postgraduate Training:

Internship and Residency, Huntington Memorial Hospital, Pasadena, CA  1999-2002.
Board Certification:

Diplomate, American Board of Internal Medicine, 2002.
"I strongly believe that preventative medicine and maintenance of chronic medical problems are very important in leading a long healthy life, rather than waiting for problems to get worse and then treating them. As people are living longer now, it is imperative that they have a good quality of life to go along with the quantity. Additionally, I am an advocate of having a strong doctor-patient relationship which I believe will foster good medical care," notes Dr. Siu.
Dr. Curtis Siu is Board Certified in Internal Medicine and has special interests in geriatrics and preventative medicine. He graduated from medical school at the University of California, San Diego. He completed his Residency in Internal Medicine at Huntington Memorial Hospital in Pasadena, an affiliate of the University of Southern California. He formerly worked as a hospitalist (hospital doctor) and thus is quite proficient with handling medical problems in the hospital as well as in the office.
Dr. Siu currently lives with his wife and children in Southern California. His hobbies include sports, home projects, and spending time with family and friends. He also speaks fluent Chinese.
Curtis W. Siu, MD is affiliated with Saddleback Memorial Medical Center.