Facility:
Saddleback Medical Group, Inc.
Address:
24221 Calle de la Louisa
Suite 400, Floor 4
Laguna Hills, CA 92653
Phone: (949) 465-8154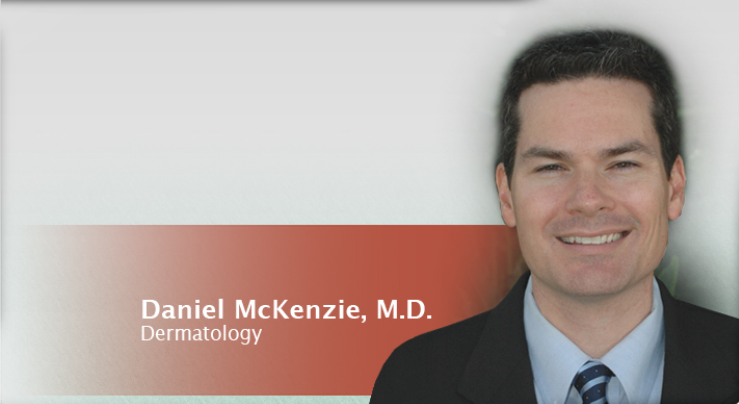 Education:
Santa Clara University, B.S. degree, 1993.
Keck School of Medicine of the University of Southern California, Los Angeles, CA, M.D. degree - Dean's Scholar, 1997.
Associate Clinical Professor of Dermatology, Keck School of Medicine, USC.
Postgraduate Training:

Internship, Scripps Mercy Hospital, San Diego, CA  1997-1998.
Dermatology Resident Physician, LAC/USC Medical Center, 1998 - 2001.
Chief Resident, LAC/USC Medical Center, 2000 - 2001.
Board Certification:
American Board of Dermatology, 2001.
Board Recertification, 2011.
Why see a dermatologist?
"Dermatologists are the best-trained physicians to take care of your skin, hair, and nails. The American Board of Dermatology sees to it that we are trained to their satisfaction in the diagnosis and treatment of skin problems. This includes the surgical and cosmetic concerns that patients have. To put it broadly, if it's on the skin, we're the best to take care of it," notes Dr. Daniel McKenzie.
Dr. McKenzie has trained in one of the most diverse and broadest of training centers with many of the most experienced dermatologists and dermatological surgeons in the nation.
A native of Southern California, Dr. McKenzie knows the effects that the sun produces on delicate skin. He is happy to discuss ways to reverse sun damage or the aging process. He and his friendly staff will help you meet your goal of looking and feeling your best!
Dr. McKenzie lives in South Orange County with his wife and children. He enjoys golf and tennis when he's not working.
Daniel McKenzie, MD is affiliated with Saddleback Memorial Medical Center.