Facility:
Saddleback Medical Group, Inc.
Address:
24221 Calle de la Louisa
Third Floor, Suite 300
Laguna Hills, CA 92653
Phone: (949) 465-8145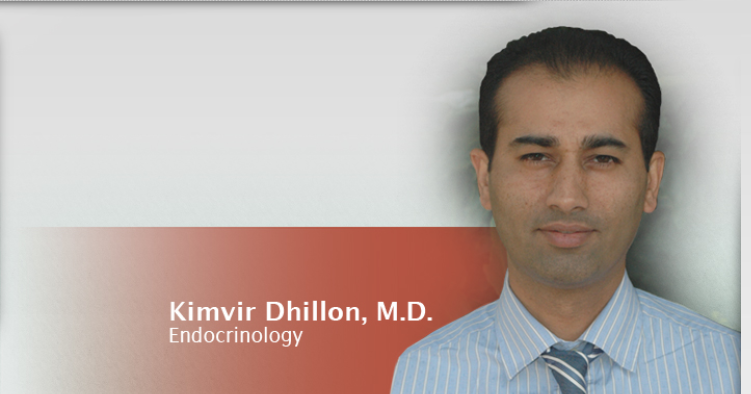 Education:
University of California at Berkeley, B.A. degree, molecular and Cell Biology/Neurobiology, 1994.
University of Vermont College of Medicine, M.D. degree, 1998.
Postgraduate Training:
Internship and Residency at the University of California, Los Angeles, 1998 - 2001.
Fellowship in Endocrinology at the University of California, Los Angeles, 2001 - 2003.
Board Certification:
Diplomate, American Board of Internal Medicine, 2001.
American Board of Endocrinology, 2003.
Dr. Kimvir Dhillon completed his training in internal medicine at UCLA Medical Center, and went on to specialize in endocrinology at UCLA Medical Center. During his endocrinology fellowship, Dr. Dhillon had extensive clinical training by leaders in the field of endocrinology with a particular interest in the treatment of thyroid diseases, pituitary diseases, adrenal tumors, and diabetes. He was active in the research of diabetes management, thyroid disorders, parathyroid disorders, and pituitary tumors. He also had extensive training in performing ultrasounds and ultrasound guided thyroid biopsies.
"Endocrinology is an extremely challenging field, due to the diversity of diseases. I chose to focus my medical career in endocrinology as it is one of the few medical specialties where disorders can be effectively treated or cured to significantly improve or prolong the lives of patients."
Dr. Dhillon grew up in Southern California and lives in South Orange County with his wife and children. He enjoys cycling and running in his free time.
Kimvir S. Dhillon, MD is affiliated with Saddleback Memorial Medical Center.